Curriculum
Are you looking for a new career? Are you interested in a profession that will be fulfilling and provide a good income? No matter what your career goals may be, dental assisting is a flexible full or part-time option. As a dental assistant, you can enjoy a stable career and take the first steps into a rewarding field that is in high demand and that will give you the satisfaction of knowing that you have made a difference in the lives of many people.
Dental assisting offers opportunities for personal growth and service to the community. Assist To Succeed Lehi will give you the quality training and experience you need to be a dental assistant or to move on to becoming a dental hygienist or even a dentist! The Assist To Succeed program is based on the philosophy of Dr. Taylor Clark as outlined in his book, Beating All Odds. In our Assist To Succeed program, we focus on helping you learn how to create a plan of action and start you on a journey to realize all of your biggest dreams. Through our unique program, you can gain the confidence, vision, and determination you need to do what few others think you can. The sky is the limit!
Dental assistant careers are growing faster and are in high demand. Job growth for dental assistants is expected to be 23% in the next 10 years!
---
Student Enrollment & Course Dates
We invite you to enroll in Assist to Succeed Lehi today! Dr. Terry Ferrell and our experienced instructors are happy to give you a tour of our office and classroom, and to answer any questions that you may have. Please contact our office today to learn more and to speak with our dentist or dental assisting instructors in Lehi, Utah. We hope to meet you soon!
Tuition
$3,295
Would you like a discount on your tuition? Call us today to learn more about our early bird discounts and interest-free payment plans.
---
Overview of our Unique 10-week Course:
Week1
General introduction to terminology and equipment
Week 2
Four-handed dentistry, instrumental transfer, isolation techniques, suctioning (HVE), local anesthesia, patient positioning, hand piece maintenance, sealants/coronal polishing
Week 3
Radiology theory and practice of intraoral and extraoral X-ray techniques, X-ray safety, darkroom procedures
Week 4
Amalgam and composite materials, instruments, mixing, curing, tubs, trays
Week 5
Cements and liners, alginate impressions (upper arch), model pouring and trimming, X-ray quiz
Week 6
Midterm exam. Oral surgery, periodontal instruments and materials, sterilization procedures, alginate impressions (lower arch)
Week 7
Crown and bridge instruments and materials, making temporary restorations, bite registration
Week 8
Endodontic materials and instruments, orthodontics, job interview skills
Week 9
Office management, front desk operation, appointments, billing dental insurance, office management software, OSHA regulations Review and practice for final exam.
Week 10
Final exam and practical exam. Pediatric dentistry, final written exam, X-ray practical clinical exam.
Graduation!
If you have any questions about our curriculum or would like to learn more about our dental assisting training program in Lehi, Utah, please contact us today. We look forward to hearing from you!
---
Humanitarian Work & Scholarship
Dr. Terry Ferrell and our team believe in giving back to the community. Each year, students who complete the Assist to Succeed program will be eligible to apply for our "Assist to Succeed, Assist to Serve" Award. ATS Lehi will give a financial award to the winners of the humanitarian scholarship to help pay for a service trip! For more information on our scholarship and humanitarian work, and to learn more about enrolling in our dental assisting program in Lehi, Utah, please contact us today.
---
Instructors
Over the course of our program, our experienced dentist and dental assisting instructors in Lehi, Utah, will provide you with training in procedural skills, dental office management, oral anatomy, infection control, radiation health and safety, and patient education. Your lessons are designed to provide a hands-on, clinically focused education that will allow you to transition directly into a dental office. Please call us today at 801-766-3700 for more information and to enroll in Assist to Succeed Lehi. We look forward to meeting you!
---
Dr. Terry Ferrell & Alisha Ferrell
Dr. Terry Ferrell and his wife, Alisha, met while attending Bountiful High School. Their first date didn't happen, however, until after Dr. Ferrell served an LDS mission in New Zealand and Alisha served in South Africa. After getting married, Dr. Ferrell and Alisha attended BYU full time and both worked part time at the Missionary Training Center. Following graduation at BYU, they moved to Omaha, Nebraska, where Dr. Ferrell attended Creighton Dental School. Their second son was born there, and they named him Crayton!
For the last 25 years, much of Dr. Ferrell and Alisha's time and energy has been spent raising three amazing sons and five wonderful daughters. They both love spending time with family, traveling, and serving others.
---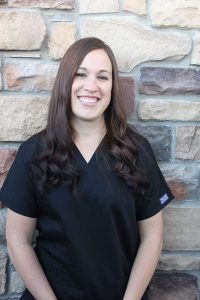 Lexi Judd – Lead Instructor
Lexi is an experienced dental assistant, having worked in assisting for nine years. She is nationally certified and completed her undergraduate degree at Utah Valley University. Lexi also served an LDS mission in New York and completed a dental humanitarian trip to the Dominican Republic. In her spare time, she enjoys running, refinishing furniture, sports, and spending time with family and friends.
---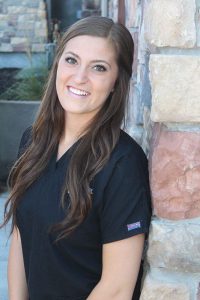 Cassidy Ferrell – Lab Instructor
Cassidy enjoys dental assisting and is currently applying for dental hygiene school. She served an LDS mission in London, England, and in her free time, she loves watching her husband play BYU football, enjoys running, and plays the piano. She also loves Christmas!
---
Our Philosophy
Through Assist to Succeed, we aim to:
PROVIDE quality dental assisting training
EDUCATE with purpose
SERVE generously
Our goal is to help you learn how to assist in dentistry and give you the tools you need to succeed in this exciting, growing field. Through our 10-week program, we will provide you with the skills and confidence you need to begin a rewarding career. Did you know that dental assisting comes with:
Steady hire rate: Dental assisting is in high demand, so you're likely to get a great job right out of school.
A rising need: Dental assisting has an excellent career outlook. According to the U.S. Bureau of Labor Statistics, dental assisting is projected to grow much faster, on average, than most other professions.
Flexible hours: Some dental assistants choose to work fewer than five days a week, and opportunities are excellent for working part time to accommodate education or family.
Opportunities for future career moves: Dental assistants have great opportunities to move into other jobs and positions.
Please contact Assist To Succeed Lehi today for more information on our dental assisting school in Lehi, UT, and to speak with our dentist and instructors. Call us at 801-766-3700. We look forward to speaking with you!